The author's recipe from Hector Jimenez-Bravo:
Duck breast with beets and wine sauce
 Ingredients:
The main course:
Duck fillet - 1 piece
Beetroot - 120 г
Spinach - 100 г
A clove of garlic
A sprig of thyme
Butter
Olive oil
Salt and pepper to taste
Pomegranate seeds for decoration
For the sauce:
Red dry wine - 1 л
Sugar - 200 г
A sprig of thyme
A clove of garlic
1 allspice seed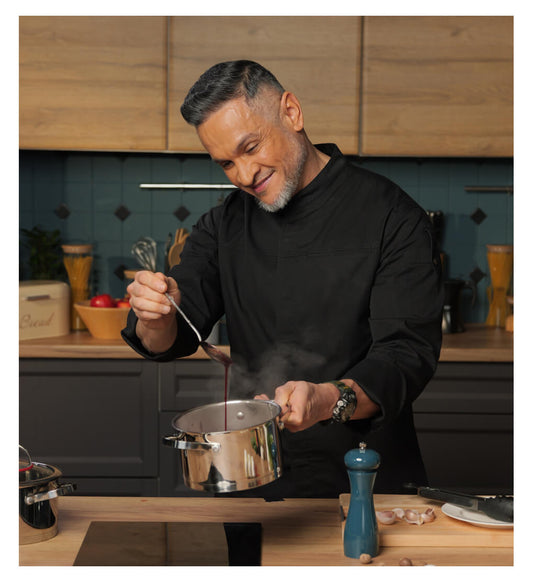 Step-by-step recipe:
Clean the duck breast and make cuts in the skin.Season with salt and pepper, add a drop of olive oil and thyme. Marinate for 2 hours.

Wrap two small beets with garlic, thyme, salt, pepper, and olive oil in foil and bake at 180 degrees for 20-30 minutes. Check for softness with a skewer.

Wash and dry the spinach.

Prepare the wine sauce. Mix all the ingredients in a saucepan, evaporate up to 100 g over low heat, and strain.
Place the duck fillet in a cold frying pan, skin side down. Over medium heat, melt the fat to a crust, turn it over and fry it on the other side.

Add a sprig of thyme, 50-100 g of butter, and pour over the duck breast for 5-7 minutes.

Take the fillets out of the pan and leave them to rest for 3-5 minutes.